Savvy Holiday Shopping Tip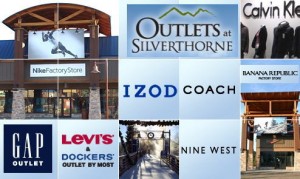 For those of you that aren't crazy about going out in the middle of the night in all the Black Friday madness, there are still more steals and deals that will be happening throughout the entire month of December.
This weekend, on the way back from Steamboat Springs, Colorado, I decided to stop at the Outlets At Silverthorne. Throughout the year, the outlets are known to have more sales and greater savings than in the department stores or the mall. During the holidays, in addition to the daily outlet savings, there are often sales on top of that.
Going holiday shopping is always the hardest for me. I always end up buying things for myself. One of my favorite stores is Coach. So of course I headed straight to the Coach Outlet. The entire store was 30% off the lowest ticketed price in addition to all of the other sales. Handbags that I previously purchased for over $300 dollars were on sale for $99 with 30% off.
I've always been taught to be a savvy shopper and just because something has a discount tag doesn't mean it's the cheapest or the best deal out there. Immediately, I fell in love with this red patent leather tote on sale for $150 with the 30% off.. Sooo with my smart phone, I searched coach.com for a similar purse and it was being sold for $378 with no discount.
Ralph Lauren had discounts up to 80% off. I was able to purchase two Ralph Lauren shirts for only $5.50 each, which were regularly priced at $25. Now you can't even buy a nice shirt at Wal-mart for that price!
For those Gap Lovers, everything in the Gap Outlet was 40% to 70% off the lowest ticketed price in addition to the current discounts and other sales. The Gap Outlet also had a wide selection of premium denim jeans for only $25 dollars.
Fashionista be a savvy shopper, visit outlet malls and share with "First Class Fashionista" where we can find the best deals this holiday season! Let's go into the New Year fashionable, but with more cash in our pockets than last year!