First Class Fashionista would like to invite you to shop:
Discount Designer Clothes
Discount Designer Shoes
Discount Designer Handbags
*BOOKMARK THIS SITE for Updates* Tyler Perry Movie Blog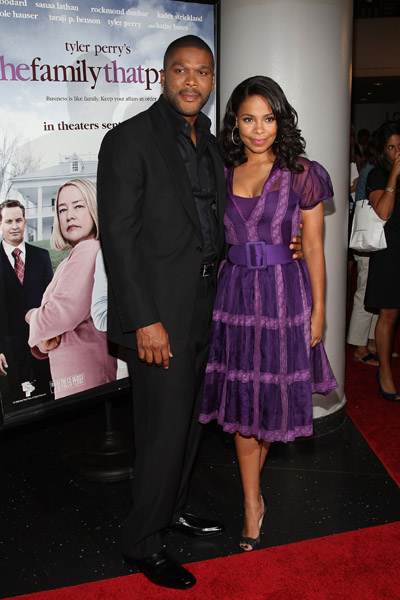 Tyler Perry and Sanaa Lathan at "Tyler Perry's The Family That Preys" at Lowes Lincoln Square in New York City on September 8, 2008.
Don't Miss the highly anticipated Tyler Perry Film "The Family That Preys" starring Jennifer Hudson, Kathy Bates, Alfre Woodard, Sanaa Lathan and Tyler Perry opening September 12, 2008. Check your local listings for show times. *Two families from different worlds…A family Business…Opportunities…Upward Mobility…Lies…Cheating…And Paternity secrets. JUICYYY!
I always look forward to seeing a Tyler Perry production. Tyler Perry is a universal story teller. His characters are definitely identifiable and always seem to come to life on the big screen. Plus it has my girl in it-Sanaa Lathan! I've been a fan since "Love and Basketball!" I also remember Kathy Bates in "Misery." She's cool too. And Alfre Woodard is a saint! Just go see this movie! It's almost guaranteed you won't be disappointed.
Here is where you can tell fans what you think. Share a comment with thousand of visitors. *Copyright protected. First Class Fashionista permits direct linking and photo credit.
Related Post: Tyler Perry Chitlin' Circuit