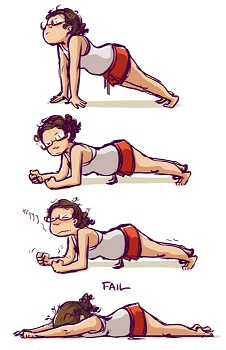 I hear all the time that I'm "buff" because I'm physically fit. But, what is "buff"? Technically the term "buff" is defined as: a person who is enthusiastically interested in and very knowledgeable about a particular subject.
It's sad but true…Most people don't see a woman who is typically in REALLY GOOD shape. A staggering number of women in the U.S. are overweight and don't workout. We are living in a country that is plagued with Obesity and it's even occurring in our children. Obesity is nothing that should be taken lightly because it affects your health.
Why wait until your doctor tells you that your health is at risk to do something about it? Americans are plagued with heart disease, high cholesterol, high blood pressure, etc. and are being told that you must do something before it gets out of hand. If your doctor has to tell you to lose weight or if a test result is a wake up call, then you need to heed the warning. We are procrastinators, which leaves us susceptible to major health issues.
Some companies even pay for employee gym memberships and I know there are plenty of you out there who don't even take advantage of that option. You have to stop making excuses about why you don't work out because YOU'RE RESPONSIBLE FOR YOUR OWN ACTIONS!!!!
Going into 2012, re-evaluate what you did in 2011 to better your health. If you didn't do anything at all, let's make the change in 2012. If you have any questions feel free to email me: Monique.Battiste@gmail.com
I am here to help you, motivate you, and answer any questions that you may have. Let's make 2012 the year you make the change to living a better lifestyle.