Marie-Margot Bridal Couture 2011 Red Ball Presentation
First Class Fashionista is very proud to announce that we will be attending and covering Denver's highly anticipated Red Ball as the official blogger for Marie-Margot Bridal Couture. This year's Red Ball will celebrate its 3rd year in fashion for a great cause. The event heightens awareness and educates the community on the importance of understanding the cause and life-altering effects of HIV/AIDS. Under the creative and artistic direction of Justice Kwesi Kawartang, Founder and Creative Director of "Colorado Fashion Week", the event is set to showcase 17 local fashion designers, 15 salons and over 120 models from the Denver Metro Area.
Proudly participating in Red Ball since its inauguration back in 2009, this year Marie-Margot Bridal Couture's Designer, Maggie Burns, is looking forward to contributing to another successful Red Ball as a seasoned designer and annual presenter.
5 one-of-a-kind Marie-Margot couture gowns will hit the Red Ball runway at the EXDO Events Center on Sunday, December 4th!
"I'm so thrilled to be collaborating for the third year at Red Ball with 303 Magazine Creative Director Charlie Price, and other members of his ADC Artistic Team at Antoine Du Chez. Charlie and his team will be creating the amazing hair and makeup for Marie-Margot fashions on the runway," says Maggie Burns.
Below are two pictures from the previous Marie-Margot Bridal Couture Red Ball Collections.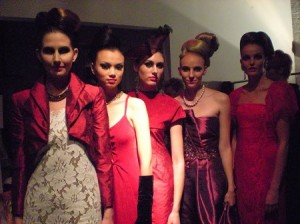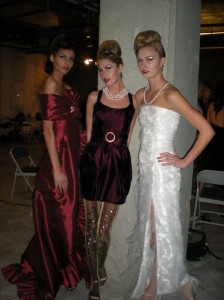 Now, enjoy our 2011 sneak peek!
Inspired by her travels to Paris and the backdrop of the Parisian shops, Maggie Burns is delighted to share the theme for this year's Marie-Margot Red Ball Collection.
"It's ethereal," says Maggie.
Proceeds will go to the Colorado Aids Project. For more Red Ball information visit: http://www.redballdenver.org