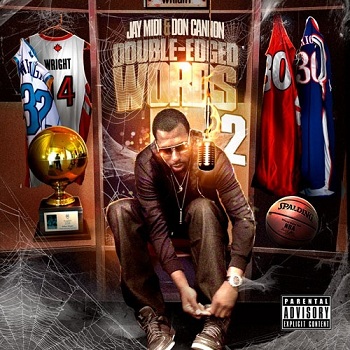 Thanks to the basketball gods, the lockout is finally over! In Denver, Colorado, we love our sports and we never miss a game. So what were the players doing during the money ball lockout? I imagine some ballers actually took time off—jetsetted to exotic destinations with exotic women—while others went overseas to continue to earn a pay check.
New Orleans Hornets player Julian Wright did something a little different. He locked himself in the studio to finish up his latest music project, "Double Edged Words 2". Released the day after Thanksgiving on November 25th, "Double Edged Words 2" is Julian's second mixtape.
"My two passions will always be my music and my sport."
Julian Wright, who goes by the stage name Jay Midi, not only balls, he's a very talented singer/ rapper, songwriter and producer. From 5 to 13 years of age, Jay Midi was an active church and community choir member, and at 9 years old he started writing poetry, which eventually evolved into raps by age 12. He says he made his first beats with MTV Music Generator.
Why basketball and not music?
"I don't have any regrets with choosing basketball over music because I felt like I couldn't go wrong. I felt like I was multi-talented at a young age. It's that balance for me. One is very physical. One is more mental, " explains Julian.
Below is a sample of his music. You can listen to the entire "Double Edged Words 2" mixtape and download it free here: "Double Edged Words 2"