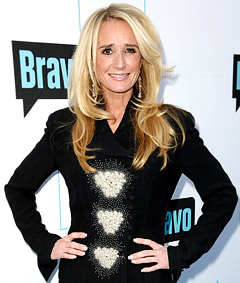 Real Housewives of Beverly Hills star and former child actress Kim Richards has checked into a rehabilitation facility. Entertainment Tonight reported that Richards will be treated for undisclosed issues at an unnamed location. Kim's issues surrounding alcoholism were seen on-screen while cameras shot last year's season finale of the Bravo hit show.
The huge blow up between Kim and sister Kyle Richards shed light on Kim's problem, prompting the then 46-year-old to seek treatment. However, suspicions arose when Kim appeared on this season's show tired and slurring her speech.
New comer and fellow housewife Brandi Glanville openly commented on Kim Richards' behavior saying she was, "Wasted out of her mind." Kim's bazaar behaviors continued during a girl's trip to the plastic surgeon's office, where Richards quickly exposed a very serious problem.
"Kim tells the doctor that she's taking a prescription cocktail of anti-seizure medication Topomax, Trazodone and Lexipro to combat depression and anxiety," stated E News. The reports continued to state, "Topomax, while technically an antiseizure med, has multiple other uses as well, such as migraine prevention, and has been known to be prescribed to treat alcoholism."
We hope Kim Richards has a safe and healthy road to recovery.