Tips for Choosing a Personal Trainer to Help You Meet Your Fitness Goals
Don't cheat yourself. If you haven't yet, it's time to make your New Year's fitness resolution; which should be your long-term commitment to a healthier lifestyle change.
I know there are some of you who have been thinking about getting a personal trainer to help you get on the right track or give you that extra push. But the problem is—You may not not know what to look for in a personal trainer.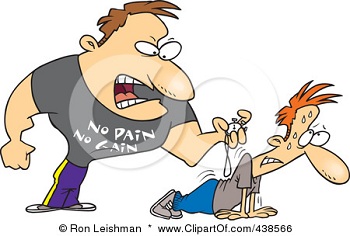 Here's my Top 5 things to look for in a personal trainer:
The "look"- Do they look like they are in shape? If the answer to that question is "NO!", then how can you take the person seriously? I have seen people who are trainers and don't even look like they work out; let alone take care of their bodies. So if they don't take care of their own body, then you know they probably won't take care of yours.

The credentials- Are they certified? Do they hold a degree? Don't just let someone tell you they're a trainer just because they have the "look". Anyone can have the look and walk around claiming they are a personal trainer when the reality is—they aren't. Here are some of the certifications to look for: NSCA, NASM, ISSA, ACE, ACSM, NESTA, etc.

Knowledge- Are they knowledgeable? I don't mean can they quote stuff from a textbook word for word. If you ask them a scientific question, can they give you a scientific answer? How long have they been training?

Consultations / Evaluations- You would hope the person you're trusting with your physical health and well-being will take the time to get to know who you are and evaluate your fitness levels, health and medical history, etc. If they don't take time out to ask these things or even give you a proper evaluation, maybe they aren't really concerned about you and getting to know you or your body…Maybe there are some things that bother you physically. For example, your knee, shoulders or back and you want to make that specific body part stronger.

Attentive- Are they attentive to your needs…? Working with you? Or are they holding you fully accountable? The person you're getting ready to put in charge of your health should be attentive to your needs and tracking your progress as well. You are not looking for a drill sergeant. After a long day at work, you want someone to work you out and maybe allow you to vent to them a little about what's going on.
Let your potential trainer know how you want to be challenged.
Make sure you are 100% honest with your trainer and don't be afraid to see how things work out. Also, ask if he or she offers trial sessions to see if your personalities mesh well. You don't want to waste your time with someone who won't be able to keep you interested. I mean, you are investing money for your health and investing time in a fitness professional, so he or she should be someone you are able to trust.