In the world of savings and finance, many people are not laughing or smiling when they pull up their 401k or other investments. It's quite the opposite reaction. In the midst of a recession, most 401k plans and investments took a huge hit. Over these past few years, a lot of people have even lost their retirement money.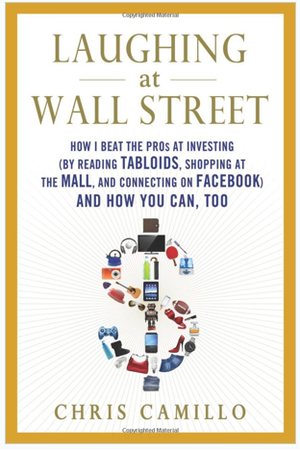 What can we do to protect and diversify our investments?
Many of the Wall Street pros didn't predict this downturn. This past week, I had the opportunity to read "Laughing At Wall Street" by Chris Camillo. In this book, Chris Camillo tells us how he invested 20,000 in early 2007 and, even in the worst economic market, he grew his portfolio to over 2 million.
Chris Camillo is not a Wall Street pro, a stock broker, or a financial analyst but yet his investments had a better return than the best on Wall Street.
So how'd he do it?
Chris didn't crunch numbers all day long or study the latest trends with charts or algorithms. He simply observed the world around him. Whether we realize it or not; shopping at the mall, watching TV, reading the newspaper and through the personal use of social media networking sites, we often see the trends first. Like Chris Camillo, if we are observant, we can actually see what Wall Street can't as they sit behind computer screens, likely in a cubicle.
Definitely check out Chris Camillo's book "Laughing at Wall Street". It was not only entertaining but useful and can help you become a successful self-directed investor.
If Chris could make nearly 2 million in this economy, you can too! Let's start "Laughing at Wall Street".