Oh celebrities and their travel issues!
In the midst of her ever so public Playboy issue leek, Lindsay Lohan escaped to Hawaii last week for a little getaway. Lindsay, who was supposed to return home Monday to tape the Ellen Degeneres show, missed her flight and scheduled taping. However, despite her 'minor' travel set back the 25-year-old was back home later that day.
But of course she wouldn't just call it a night, soon after arrival Lilo headed to the Staples Center for the Jay-Z and Kayne West Performance. The show, which lasted till after midnight, kept Lindsay there till around 1 AM. The actress / singer must have gotten plenty of rest, because she was up bright and early the next day for a court date with Judge Stephanie Saunter.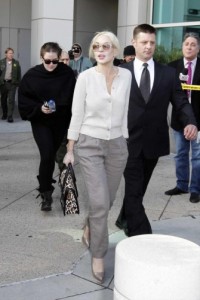 Saunter who is known for her no-nonsense reasoning, was surprisingly encouraging of Lindsay's post-community service work! Well, we hope that this has Lindsay looking towards a more problem and trouble-free 2012!