Listen Up for Christmas Sake: Shopping Tips for Men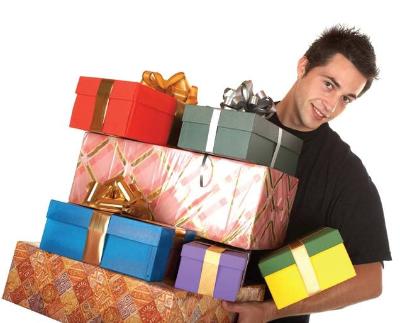 Good morning all. Once again it's that time of year when competitive "one-ups" ushers in an entire new meaning to keeping up with the Jones'. All too often we find our selves smack dab in the middle of a rat race in efforts to cram our entire Christmas shopping into 2 short weeks. This is obviously the recipe for the worst disaster of all, the dreaded "I just got you this for the sake of saying I got you a Christmas gift" (acronym to be announced lol).
I hate to point fingers but guys we literally take first, second, and third on this one. Being raised in a family with mostly women, I've learned a few things. One of the most important lessons is pay attention to what she likes already. The perfumes she likes; see if she needs a new one or if, perhaps, she was looking into a new scent for the season. Look at the clothes she wears right now. The colors, fabrics, brands, etc. This may seem a bit overwhelming; however, women literally spend 1-3 hours on an average daily to look beautiful, and bring out the wow factor. When it comes to gift giving, the least we could do is show them that we've been paying attention. As far as handbags are concerned, it's a trap. Unless you can pinpoint her personal style or know her favorite designers, it's a real life game of Russian roulette…The real bullet in the foot comes from the designers being smart enough to release the bag 2 full weeks before the clutch—Meaning you have to come back. In a situation like this, remember to leave a gift receipt in the box. Truly the gift that keeps on giving.
Now if she's anything like my girlfriend who works in an environment totally controlled by the blandest blend of suits and serious faces; dare to take a leap forward. One of the best ways to never let her forget that she's the most beautiful person in the world is to go out on a limb and do something unexpected…Russian red lip stick by Mac. The sexiest thing ever. Even more appealing when she's in a Manolo tip heel with stockings and a pencil skirt. Traditional top. Kind of like the fantasy of that one substitute teacher in 10th grade (but I digress). Let her be your fantasy, not some fictional character from a movie or television. I guarantee you she'll be more than willing to openly accept the attempt and of which is more. If she appreciates your efforts, you've got a constant win until next December. Call this one respectfully sexy.
Last, but most importantly; the best practice to figure out what she truly wants is to just listen. I mean really listen. As males, our communication techniques commonly falls between a chromagnon man and a boxing ref. We clearly state exactly what we want. No questions asked. Loud and clear. But when it comes to women, not so much. So it sounds like she's been telling you the same story about yoga over and over again. Listen more closely. As I say, "Try a deeper listen". Now you've finally figured out it's not about the class, but about a woman's handbag.
Final tip. Does she mention brands or never at all? In either case, the latter would more than validate a go when it comes to figuring out a winning purchase. We spend hundreds of dollars a year on what we think she might like. This year, let's put our ears to the test and give her the best gift of all—Let her know that she does indeed have our undivided attention.
Well, that's all for this segment; and remember before you make the "I just got you this for the sake of saying I got you a Christmas gift" mistake, try to listen to what she truly wants. I really don't want to see another guy buying his wife "the flat screen that she always wanted". Enough said.
Good luck and happy holidays!
And, don't forget to look for my next update.