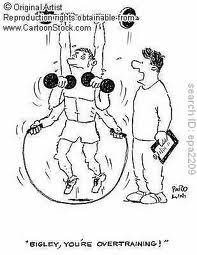 Overtraining is a term that a lot of people may not be familiar with. Basically, overtraining occurs when you don't listen to your body or when your body has ultimately hit a plateau. I know about overtraining first-hand because I've been sick for 2 long weeks. I initially had a cold but because I have Asthma it turned into a chest cold, commonly known as Bronchitis. I also ended up with a sinus infection. These had to be the worst 2 weeks of my entire year. I literally just wanted to lay in bed and do nothing. I knew eventually my body would make me stop and sit down, and that's what it did.
Here are the signs and symptoms of overtraining:
Not enough sleep
Not being able to relax, no free time
Always in a rush
Upset stomach
Not satisfied with things in your life
Decreased performance while working out (bored with workouts)
Headaches
Drained, lack of energy
Pain in joints
This list can go on and on.
I admit, I did overtrain for my last competition. It wasn't intentional but it happened. The signs that I experienced were:
Not enough sleep
Headaches
Restlessness
Stressed out (too much on my plate)
Weight didn't stay down like it should have
Retained water
Bored with workouts
Emotional breakdowns
My body was just done and after my last show in October, I said I would take a break but I couldn't even refrain from working out for two weeks. Being a part of the health and fitness industry, I realize I too have to take heed to my own advice and listen when my body says it needs a break.
You should do the same.
If you feel that your workouts are suffering then, 9 times out of 10, your workouts are suffering. Take a break! When you can't perform at 100% and your form is lacking, but you continue to train and sacrifice because you feel the need to get the results you want RIGHT NOW; your body is suffering and may give out on you.
Here are some tips to avoid overtraining:
Allow a day or two of rest between workouts
Get at least 6-8 hours of sleep every night
Switch up your routine after 2-3 weeks
Take some time out for yourself and do something that you enjoy
Try a group exercise class once a week (I know I do)