The Kardashian entourage was all dressed up in their finest..bow ties? The family got together to shoot their annual Christmas card sporting very unconventional attire; but then again the Kardashian family is anything but conventional! All of the K-kids and the significant others wore black and white outfits, while mom Kris Jenner beamed in a turquoise blue sequin dress.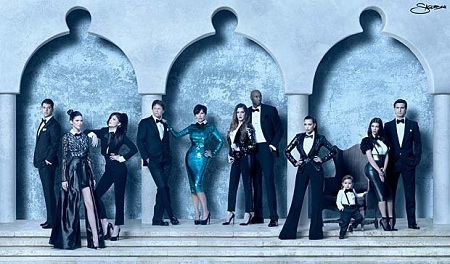 Up in Canada, a very pregnant Beyoncé caught up with husband Jay-Z during a tour stop in Vancouver. During her visit B made sure to get a little holiday shopping in while she could. The pop-star shopped around at Holt Renfrew with her security detail in tow. A source for People Magazine said, "She looked so comfortable and quite pretty."
While most celebrities tend to keep things traditional, Sandra Bullock's family tradition includes buying illegal sausage! We've heard Bullock's family imports German sausage every year for their annual Christmas feast. The tradition which started with Bullocks mother, has been passed on by Sandra to her family. The actress explained the bizarre tradition to Jay Leno on the Tonight Show.
"Since my mother passed, we break the law, because we have to manage to smuggle German sausages into the country, and apparently bringing meats across the waters is against the law," said Bullock.
Do you have any particular holiday traditions? We would love to hear about them!