As a SearsStyle Trendsetter, this weekend I had the opportunity to check out the new affordable and stylish brands at Sears with a Sears gift card. During the holidays we all go out shopping for others and we usually try to resist picking up something for ourselves. So when I was invited to take part in a trendsetter's opportunity with SearsStyle, I nearly jumped at the chance to get some new stylish clothing to go into the new year of 2012.
I admit, it has been a very long time since I've shopped at Sears and when I arrived I was really surprised to see all the new clothing lines and the wide selection of apparel and accessories Sears has to offer.
The first collection I sought after was the Kardashian Kollection. To my surprise, the Kardashian's are not only popular in the entertainment news world, but their collection was nearly sold out. I fell in love with the Women's Tuxedo Inspired Mixed Fabric Dress by the Kardashian Kollection. "It's sleek elegant look would be perfect for New Year's Eve," I thought. To my dismay, the only sizes left were large and x-large. I had to get this dress. The sales associate put in an order for the dress online, and it's expected to arrive on my doorstep just in time for New Year's Eve. This was the best splurge of the season that doubled as a steal for me!
I was also able to pick up a couple of sweaters under $15 dollars from the UK Style by French Connection. With Sears in-store holiday discounts from 40-65% off most of the collections, I definitely would call these sweaters a steal too. During the holiday shopping season, I've been to over 10 department stores and Sears definitely has the biggest bang for your buck.
Check out my new look just under $20 by Apostrophe: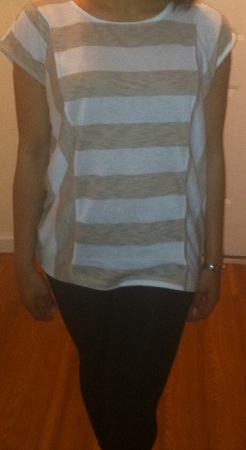 Disclosure: As a SearsStyle Trendsetter, I received one or more of the products mentioned above for free. The opinions expressed herein are those of the author and are not indicative of the opinions or positions of Sears. Regardless, we only recommend products or services we believe will be good for our readers. I am disclosing this in accordance with the Federal Trade Commissions 16 CFR, Part 255 Guides Concerning the Use of Endorsements and Testimonials in Advertising.