The Kardashian boycott continues to grow.
Months after Kim Kardashian and basketball player Kris Humphries ended their 72-day marriage; the boycott to all things Kardashian continues to gain support. The website Boycottkim.com targets any brand or companies affiliated with the reality star with a written pledge not to buy, watch or read anything with the Kardashians. The group believes that Kim K has made a "mockery" of the American public by "exploiting the media for personal and financial gain."
"First Class Fashionista" recently shared our latest Sears shopping experience on the searsStyle fan page, and experienced the boycott first-hand. Scott Sorenson comments, "I just can't imagine why anyone would want to buy their line of crap or their clothes."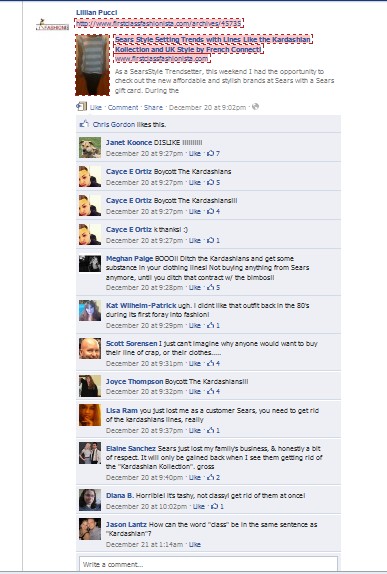 The searsStyle Facebook has been taken over by the boycott. Visit searsStyle and click on "Everyone" to read pages and pages of aggressive, non-stop commenting.
The aim of the boycott is to spread the meaning behind their message and eventually end Kardashian branded merchandise. A total of 45 brands and companies are listed on the "do not shop list" some of them being large department stores chains. The heavily trafficked site asks viewers to "join us in pledging to boycott the brands and stores listed on this site."
So far close to half a million signatures have been added to the petition to support the groups efforts. The site has expanded significantly since the original Facebook page started and has received quite a bit of media attention as they go towards their goal of one million signatures.
What are your thoughts on Kim's rise to fame and the Kardashian boycott?