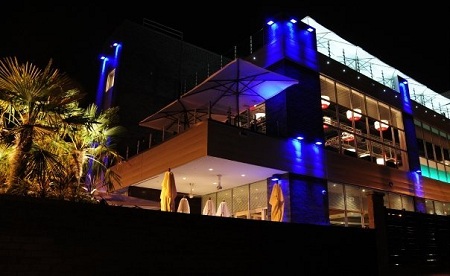 "First Class Fashionista" recently experienced a VIP welcoming from Raleigh's own Solas Raleigh, a 5 star restaurant with an exclusive rooftop lounge. The venue embodies all that is chic; from its contemporary-modern décor, to the perfect lighting for a relaxing evening. Solas offers three levels of first class experience; dinning, lounge and the exclusive roof top experience.
How'd we discover this nightlife gem?
During Thanksgiving break, one of our nightlife insiders from Denver, Colorado was presented with the opportunity to experience Solas Raleigh as a VIP. This was FCF's very first visit to Raleigh, North Carolina. The insider visited Solas Raleigh to explore the venue as a New Year's Eve destination hotspot, and enjoyed a delicious late night dinner. Soon after, she wrote:
"Hello Raleigh, meet Hollywood Nightlife! Solas Raleigh is the perfect place for the VIP and upscale dinning! Nowhere else in Raleigh offers a melt in your mouth Seared N.Y. Strip cooked to perfection and Hollywood Nightlife. Solas Raleigh is truly Raleigh Nightlife at its finest."
First Class Fashionista was honored to be a guest at Solas Raleigh!
If you are looking to bring in the New Year with a first class experience in Raliegh, North Carolina, we believe "Cirque Du Solas" hosted at Solas Raleigh is your first class destination. As our nightlife insider would say, "Hello Raleigh, Meet Hollywood Nightlife!" Book your New Year's Eve Dinner Reservations today (919)755.0755, and don't miss the "Cirque Du Solas" New Year's Eve Ball! For more information text 646-229-0276 or visit http://solasraleigh.com