The Truth Behind My New Year's Resolution
When I was presented with the opportunity to try the new Trop50® for free and share the truth behind my New Year's resolution, I knew this was a challenge I wanted to take on. To celebrate the real reasons behind New Year's resolutions, Tropicana® Trop50® is asking people everywhere, what's the juiciest truth behind their 2012 resolution. Join in on the fun of Trop50 True Resolutions and share what's really motivating you to change, and Tropicana® will give you a $1 coupon towards the purchase of Trop50® and up to 50 50¢ coupons for your friends. Also enter to win a $1000 gift card, even if you do not wish to submit a resolution. Sounds fun? Well that's what it's all about. Trop50 True Resolutions is not only fun, it inspires.
While drinking a glass of the orange Trop50®, I was reading the label and was truly inspired to think over my resolution to lose weight. Trop50® has 50% less sugar and calories than other brands. "This is a great start," I thought.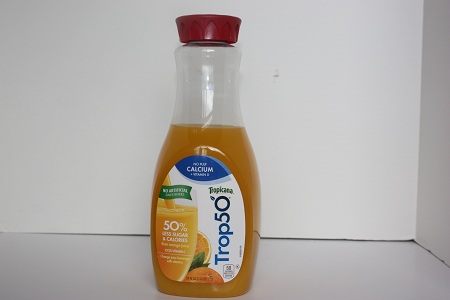 But, what's the real truth behind my resolution? To begin, until now, I've never made a New Year's resolution…Why start now? Last year, I tore 3 ligaments around my left ankle while participating in a kickboxing class. I've never broken a bone, but from what I understand ligament tears can be more painful and take longer to heal. I was on crutches from August to November, fell out of the routine of working out 3 to 5 days a week and, as a result, I've gained a lot of weight. I have a closet the size of a child's bedroom, and I can't fit anything other than my sweats. That's the sad truth.
However, I wish that was the whole truth. So, besides the truth behind my resolution being I've never made a New Year's resolution. I realize my sudden weight gain is just a symptom. It's been over a year since I couldn't walk. My real Trop50 True Resolution is that I want to stop making excuses. When I do work out, I can perform at 100%. The real truth is—If I can successfully manage my weight, I will have achieved a sense of balance in my life again.
A Message to you from Tropicana:
Tropicana® Trop50® delivers the goodness of fruit juice with 50 percent less sugar and calories, and no artificial sweeteners.
Trop50 True Resolutions celebrates the real reasons behind New Year's resolutions. Share your secret motivation and you'll earn a coupon for $1 off Trop50 for yourself and 50¢ off coupons for up to 50 of your friends. You can even submit incognito with a fierce disguise. Bonus: Whether you submit a resolution or not, you can also enter a sweepstakes to win a $1000 gift card.
Don't forget to visit Trop50 True Resolutions!

Disclosure: I was selected for this Tropicana Trop50 sponsorship by Glam Media. Compensation was provided by Tropicana® Trop50® via Glam Media. The opinions expressed herein are those of the author and are not indicative of the opinions or positions of Tropicana® Trop50®