Can't believe it is OFFICIALLY 2012!! I'm still in shock. I've been out of school for 7 months and, at times, I miss being in college because of the structure. But, now that I've been spending my time coming up with new topics to write about for First Class Fashionista ; it's kept me busy and, most of all, happy. This past weekend, I sat down and read US Weekly (Jan. 9, 2012 issue) and on the cover was Kim Kardashian and the headline read: "Diets That Work". I'm not a fan of Kim Kardashian myself, however, I decided to purchase the issue and see what the fuss was about. Starting on page 44 and ending on page 66, you find out the "secrets" of the stars.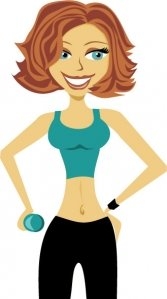 Today, I'm here to share with you the celebrity diet and fitness tips that stood out the most and what I tell my own clients:
Kim Kardashian said: "I wake up and eat eggs with turkey bacon, then salad for lunch and fish, pasta, or chicken for dinner." I choose to cut carbs, such as pasta, after mid-day because it helps my metabolism to continue to burn calories, and I prefer to eat veggies with my meals in the evening. I also make sure that my meals are 3 hours apart. It's very possible to eat on a 3 hours schedule, you just have to write it down.

Paula Patton (Robin Thicke's wife) said: "When she had to get ready for her role in Mission: Impossible — Ghost Protocol she would do everything from karate to boxing to capoeira." I like this one. SWITCH UP YOUR TRAINING!!! Cross train. Don't keep doing the same thing because eventually you will get bored. I too have to switch up my training. I started taking up Muay Thai and IT'S AMAZING!! Performing this disciplinary art or exercise routine. I work on my core and upper body all in one workout! My abs are on fire the next day. It's so intense, you're sweating within the first 5 minutes. I highly recommend you give Muay Thai a try. Paula Patton also does circuit training. Circuit training is great because you can target many muscle groups in the shortest amount of time.

Olivia Wilde: She said she "Doesn't stress over food and practices portion control." For example, I try not to stress when I am preparing for competitions and trying to lose a few pounds. When you stress your cortisol levels go up and causes you to put on weight and usually you put on weight in places that you don't want it to go (i.e. abdominal area). So, keep stress levels as low as possible.

Amanda Seyfried: She's like me and I quote: "I like to eat." I do love to eat and she does the one thing that I do, which is eat an 'occasional hamburger.' It's occasional because you don't do it all the time. I schedule a cheat day or meal once or twice a month. The reason I say "or" is because sometimes my cheat meal turns into an all out cheat day. 🙂 It's ok to cheat, just do it in moderation. She also brings friends with her when she takes classes. Bringing someone who is just as motivated as you are that way they won't slow you down but push you to do better. It's always fun to have someone there to motivate you and push you!
These tips should get you started towards your health and fitness goals. It's 2012! Let's get out there and get into the best shapes of our entire lives. We only have one body. Let's take care of it!!