Mariah Carey and husband Nick Cannon found themselves taking an unexpected trip back to the hospital. In April 2011, we all welcomed their twins, Monroe and Moroccan Cannon, into the world after several complications during Mariah's pregnancy. Now, Nick Cannon is the one lying in the hospital bed and wife Mariah Carey is by his side.
Early Wednesday morning, Mariah Carey tweeted "Please pray for Nick as he's fighting to recover from a mild kidney failure." She also twit-picked a picture of her by Cannons bedside in Aspen, Colorado.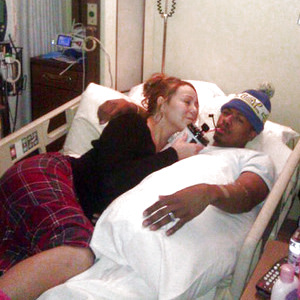 Nick Cannon and Mariah went up to Aspen to celebrate their first holiday season with the twins. The trip to Aspen was a very big deal for the family.
Nick Cannon was hospitalized due to acute kidney failure. For now, the current update is that Nick's kidney failure may have been due to dehydration. Mariah also commented on her blog saying, "We're trying to be as festive as possible under the circumstances, but please keep Nick in your thoughts because this is very painful."
No additional information has been released, and there is no news on how long Mr. Cannon will be hospitalized in Aspen or if he has been discharged, but we'll keep the family in our prayers.
News Update: Nick was flown to a hospital in Los Angeles, California.