FirstClassFashionista would like to invite you to shop: DesignerClothes@FirstClassFashionista
DesignerShoes@FirstClassFashionista
DesignerHandbags@FirstClassFashionista
*BOOKMARK THIS SITE* Official Celebrity Fashion and Gossip Website
Gossip Girl "The Dark Knight" Recap Highlights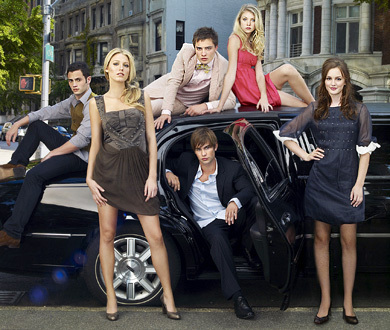 Occasion: Back to school Party for Seniors and their Parents
Blair, Chuck and Lord Marcus
Blair desperately wants to take the relationship with Lord Marcus to the next level. He tells her that she is very special and that the moment should equal to it. Meanwhile… Chuck can't seem to get over Blair. Chuck has a different girl every night but his body wont respond. Later, Chuck speaks with Serena and realizes that it is Blair that he needs.
At the party:
Chuck tempts and seduces Blair. Pressing his body against hers, he seductively whispers in Blair's ear. "So much time wasted… That's what I like about you; cool exterior, the fire below…Did you know that a suit of armour makes for a cold bed pillow. Will You have sex with me?" Blair tells him that he is disgusting and that she hates him but Chuck points out that Blair was in fact still holding his hand. Blair runs to Lord Marcus and demands that he meets her in her bedroom. "I need you to make me feel alive! Meet me at my bedroom." Chucks silhouette is seen entering the room. They kiss passionately. It is not at all believable that Blair thinks that it is Lord Marcus. Lord Marcus walks in. Blair says that she thought that Chuck was him and that Chuck had faked an accent. Marcus punches Chuck in the face, then exits. Blair chases. Lord Marcus turns to respond. "Can you honestly tell me that you thought it was me?" Blair pauses. "I knew it was him," says Blair. Lord Marcus tells Blair that she only wants his title and the idea of who he is. Blair fires back. "I'm not some delicate flower; show me you want me! They too kiss passionately. I guess it's not over between these two…
Blair, Katherine, Nate and Vanessa
Katherine spies Nate and with another girl, so she calls Blair. Blair identifies the girl as Vanessa. Next scene, busy Blair treks to Brooklyn to invite Vanessa to the party; only to find Nate and Vanessa together. She fabricates a lie about why she is inviting Vanessa to a party for a school that Vanessa doesn't even attend. Neither Nate or Vanessa really believe Blair but Vanessa plans to go to the party anyway. Later, Nate runs into Lord Marcus and finds out that Katherine is planning to attend the party as well. Nate immediately makes an excuse to cancel with Vanessa. However, Vanessa decides to make an appearance at the party anyway. At the party, Vanessa finds Katherine holding Nate's hand. Now she knows that Katherine is much more than Nate's friend's mom…And it is trully a stretch to say that Lord Marcus and Nate are friends. Vanessa is shocked and hurt. Hadn't Nate told her that he wanted to make things right with her? Was it all a lie? Then the lights go out. It's a city wide blackout. Vanessa and Nate get separated. Later, Nate finds Vanessa and pleads with her to listen. She asks whether or not he is sleeping with Katherine and is Katherine the reason that he keeps canceling on her. Vanessa tells him that she didn't sign up for some creepy love triangle with him and someone's mom. Nate pleads. "My family needed help and I had no other option," says Nate. Vanessa eventually opens up and says "tell me everything." Later, a discussion takes place between Vanessa and Katherine. The viewer's are not privy to the conversation. After Vanessa's encounter with Katherine, Vanessa tells Nate not to end it and that he should be with Katherine….that she was out for good. We do find out, however, just how low Katherine is willing to stoop to keep her "paid for boy toy" as Vanessa tells Dan that Katherine told her that if Nate left her she would go to the FBI and tell them where Nate's father is hiding out.
Serena and Dan:
"Take time to smell the flowers. All good things come to an end…They don't call it fall for nothing."
In the beginning the two discuss whether or not to go public with their relationship but the story comes out sooner that they wanted. After a "Gossip Girl" fan snaps a pic, the news spread like a wild fire. Jenny heard the news faster than Dan was able to get home. Comically, Dan and Serena run into very outspoken "Gossip Girl" fans in the park. Two of the fans said that they were on Dan's side and warned him that he shouldn't be with Serena. The third fan said that she was on Serena's side and Serena should remember that Dan's lips had touched Georgina's. In the end, however, Dan and Serena are stuck in an elevator having a dispute over whether or not mentioning Serena's name would help get them out of the elevator faster. Well, it does. Dan is embarrassed, his ego is hurt and he lashes out at Serena. Serena argues that she can't change who she is and that they can't keep having the same fight. As the elevator door opens, Serena looks mournful. "I'm scared…When we step out of here it's over," says Serena. It looks like it may be over…at least for now. More importantly, did you see the Chanel dress that Blair was wearing?
Here is where you can tell fans what you think. Share a comment with thousands of visitors. *Copyright Protected. First Class Fashionista permits a direct link and credit.