Although I generally refuse drugstore brands, I have a soft spot for good deals and the Hard Candy brand. Only sold at Walmart, this brand combines good quality with drugstore prices, I love it all! This kit is a definite makeup collection essential for anyone with pale or blue undertone skin.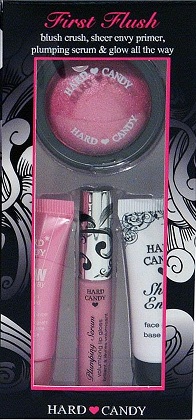 This 4-piece makeup kit includes:
-Sheer Envy Primer
-Plumping Serum Volumizing Lip Gloss
-Glow All The Way Face and Body Luminizer
-Blush Crush Baked Blush
The primer keeps my makeup on all day, and leaves my skin feeling moisturized and smooth, as well as hides my pores and blemishes.
After applying the primer, I apply a light powder foundation and then the blush. I often use this blush as an eye shadow as well, because it is such a gorgeous color! Be careful, this is a highly pigmented powder, so use it lightly! Then, I apply a small amount of the luminizer to the apples of my cheeks as a small highlight. This luminizer is great for a night out, adding a little shimmer to your chest.
The gloss has become my purse staple. Not only does it have a lustrous shine and plumping qualities, it smells and tastes like bubblegum! This gloss makes my lips look huge, and the gorgeous color compliments my blue skin tone.
This is a definite must-have for anyone with pale skin! Hard Candy offers similar kits for differing skin tones and looks. To shop these kits, visit your local Walmart or order from Walmart.com.