It's that time of the year AGAIN!
*slaps forehead* I keep saying to myself: "Why do you do this to yourself?" I know you're like…She looks amazing, what more can she possibly work on? A LOT!!! The body building competition lifestyle is not an easy one. I have to eat every few hours, wake up before the crack of dawn and do cardio for an hour, make all my meals, train clients, train myself, respond to emails, make phone calls and more. This list can go on forever!!
I'm busy 95% of the day.
Competing is very hectic when you're trying to fulfill a goal of becoming a fitness model. This time around I promised myself that no matter how tired I am, I was getting up to get everything I needed done for the day. I don't have a coach to push me and make me get up at the crack of dawn. I don't have anyone pushing me to do better.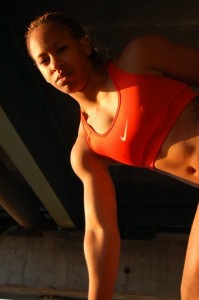 I am my own coach and I have to motivate myself everyday!
It's frustrating at times because, realistically, if you're trying so hard to accomplish something without coaching or leadership, you often feel like you're not doing something right. I've cried through cardio sometimes, asking myself why am I putting myself through all of this to not even guarantee myself a winning spot. But I've taken a different approach this time. To prepare for my next competition, I've incorporated sprinting, Muay Thai kickboxing, as well as Hip-Hop Dance.
This Saturday, I will be dancing in the San Francisco 49ers halftime show with the Goldrush Girls and Sean Kingston. Back in 2003 I danced in the AFC Championship Halftime show and it was a blast. I am excited, but Saturday will be an extremely long day for me.
Doing Hip-Hop dance last tonight to prepare actually made me sore and I only danced for 2 hours. My back, arms, abs, and legs are sore. When you give it all you've got, you're going to get sore. It was the best workout for cardio—ever. I advise you to try out group exercise classes whenever you can, they are amazing!
I hope you haven't given up on your goals because I haven't! I can't wait to share pics from the game 🙂