After getting sushi with my friends, we decided it was time for an Asian dessert in theme with our dinner. So we left Hapa on Pearl Street in Boulder, Colorado, and went down the street to Smooch.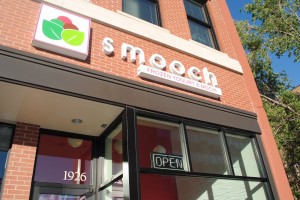 Upon entering this cute froyo location, I noticed its mod décor and hip feel. This is definitely a hotspot for the young crowd!
Offering up 21 different flavors of mochi, I chose dark chocolate & strawberry with red velvet cake flavor. Yum, these little balls of ice cream wrapped in rice dough were fantastic! After receiving my flavors, I held them in my palm for a small amount of time to thaw the rice dough, and then bit into the soft, cold goodness. Both flavors tasted magnificent and, needless to say, Smooch is my new favorite go-to for a cute date or just a treat with friends!
Smooch offers 21 flavors of mochi, four flavors of gluten free, active culture frozen yogurt, and 24 different toppings for your frozen yogurt. To learn more about this hip froyo spot, visit smoochco.com! You won't be sorry.