With a fourth album in the making, a new outlook on the the present and bangs, Taylor Swift is ushering in an enthusiastic start to 2012.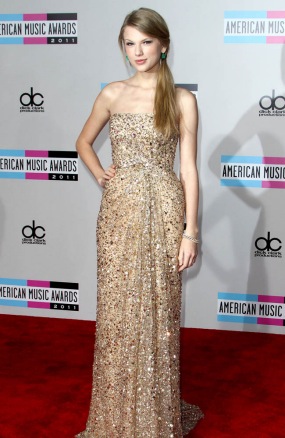 It seems that Taylor Swift has finally grown into her inner Fashionista, and it's taking full advantage of her style opportunities. In an interview with Jonathan van Meter at Vogue, Swift's style is described similarly to the inspiration of Rodarte's Spring 2012 collection; drawing the "line between sincerity and irony, between too-literal costume and clever fashion reference." She is really having fun with fashion and it shows. Florals, glitter, lace and bows are among the re-occurring themes of Swift's taste.
Although Taylor Swift has yet to make an appearance this award season, she is making stylish choices far beyond her famous sundress-cowboy boot combination. Touring designer's studios such as Alexander Wang and Prabal Gurung, Swift is embracing her sample-size physique by wearing anything she wants. Interestingly, the country music darling has a tendency to stick closer to the lesser known designers. Swift looked gorgeous in a glitter Reem Acra gown at the American Music Awards last November—where she won three awards.
T. Swift already tops the music charts, now she's taking advantage of her ability to inspire fashion trends in her spare time.