I was recently asked to try this AMAZING Hana flat iron complimentary of Missiko. When I was initially asked I immediately thought to myself, "Well you did say you were going to buy a new one!" So I waited patiently and when I finally received it, I couldn't wait to open it.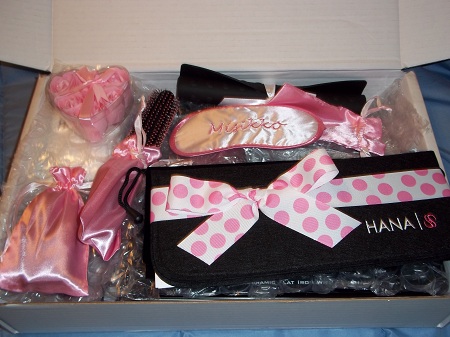 When I opened the box, I couldn't believe my eyes! There was so much stuff I didn't even know what to do with myself, let alone my hair. Inside the box, of course, there was the flat iron but there was also a Heat proof silicone mat, luxe heat proof storage pouch, special edition tin case, heat proof pouch, travel size and regular size Hana shine shield serum, Styling iron cleaner, gift pouch (nail files, eye lash curler (E.L.F.), lip gloss (E.L.F.), eye shadow (E.L.F.), hair towel just like a turbie twist, a brush, eye mask, etc.). This was awesome!
I'm such a tomboy that the "girly" switch turned on, and I started screaming!! I couldn't wait to try it out so I washed my hair and blow dried it. The Hana Elite got hot very fast and the way the plates glided over my hair was amazing. It didn't feel like my hair was being pulled like it did when I used other flat irons. I even let my sister use it and she said she was planning to use it too. What I really enjoyed the most is that it came with a cleaner. Every flat iron that I have ever used never came with a cleaner and I never knew how to clean off the plates so I would end up spending more money to buy a new flat iron.
I would highly recommend this flat iron as the best flat iron for anyone who straightens their hair.
Browse as seen in Marie Claire and RedBook Hana flat irons here: Flat Irons.