The Colored Jean Trend
Blue jeans have always been the staple for casual style, but it looks like they're ready for an upgrade. Mainstream brands like J.Crew, The Limited and Express have made a valiant effort to the cause and come out with a couple of bright new colors, but nothing really compares to Joe's Jeans 55 colors campaign.
Their selection is unbelievable, and you can shop online at Nordstrom.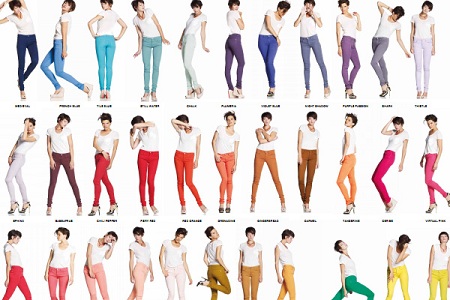 No longer do you need to settle for a pair of colored jeans that aren't exactly what you're looking for. Also in shorts, the color possibilities are endless. Jeans sell for about $158 and shorts $128, the price you pay for creative freedom.
The most popular way to wear colored jeans is with black. Simple and basic. There are however, other options. My favorite is to wear a neutral color-blocked or striped top to add depth. For an ultra bold statement, wearing a coordinated pattern of floral blouse can add sophistication and elude confidence.
How do you live colorfully?