It's that time of year again, time to bring out the all you can eat appetizers and tune into the big game. Unfortunately I, myself, do not claim to be a big time NFL fan. However, I make an exception when it comes to the Super Bowl! Along with a steady stream of multi-million dollar commercials is the halftime performance.
Since Janet Jackson's not so private unveiling during Super Bowl 38, comes the hype of who will preform next. Pop and Celebrity Icon Madonna is scheduled to sing at the Lucas Oil Stadium in Indianapolis come Sunday.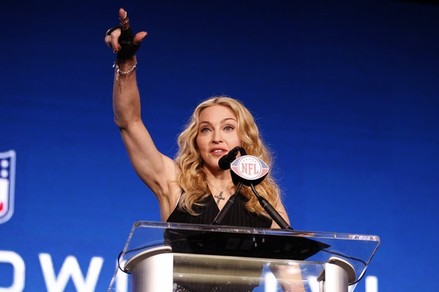 The material girl has promised to keep her act free of any wardrobe malfunctions.
"I promise I will be singing three old songs and one new one," She continued. It will be "a spectacular  show…for all age groups and it will be a feast for the eyes and ears."
Madonna will also be sharing the stage with rapper Nicki Minaj and M.I.A. It sounds like a recipe for a fabulous performance. Can you say, 'are you ready for some football?'
Tune into Super Bowl XLVI in Indianapolis Sunday, Feb 5th on NBC.