Now this is a rather unusual trend and isn't quite being seen on the masses yet, but creepers are gradually making their way into the US from Europe. I found out about these in the underground fashion of tumblr, and found that I've gradually seen them more and more on people I know. Now I know these are strange, but Uggs were considered hideous at first as well! Either way, if you're looking to look a little edgy and avant garde, creepers are the right shoe to wear. Below is a link to a pair of cute ones I found!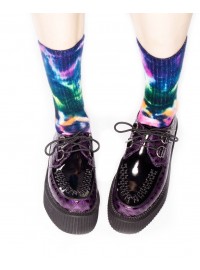 $69 at DollSkill
Will these be the next Uggs? Probably not; but they are surely taking the fashion scene by storm, being seen on the likes of Charlotte Free. Also, after falling in love with Jeffrey Campbell's edgy platform boots, I had to find a look-alike that I could afford. Here's the original Jeffrey Campbell Lita in black. Click image to buy.
I found mine at shoedazzle.com—for a fraction of the price. Yes, please!