Leave it up to Beyonce to show up in 4-inch Louboutins and steal the show!
Just shortly after giving birth in January, Beyonce reveals a curvaceous figure.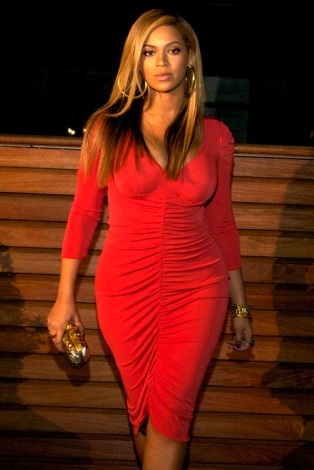 The new mom wore a bold red Alice by Temperly dress to hubby Jay-Z's first show at Carnegie Hall. Jay-Z was giving a special benefit performance for the United Way of New York and his own Charity, the Shawn Carter Foundation. After being joined by musical guest Nas and Alicia Keys, all ears awaited Jay to sing "Glory". The song which is dedicated to his new baby girl was released only days after her birth.
Jay-Z's prelude to the song began with a question. He asked the crowd "if there are any proud parents out there." Then after he said, "I didn't think I was gonna make it through that one — that was tough."
After performing to a sold out show, Beyonce joined her husband and friends for an after party at the 40/40 club. This was B's first public debut since giving birth to daughter Blue Ivy Carter on January 7th.