It's That Time of Year!
I know you're thinking that the year has just started, but for me that means I am no longer in my off-season. I am FULL SWING into my figure training. So full swing that I am up before 6am just to do cardio. I know I'm nuts but it's all about discipline. On May 5, 2012 I will be competing again in the Contra Costa Figure Competition in Hayward, CA!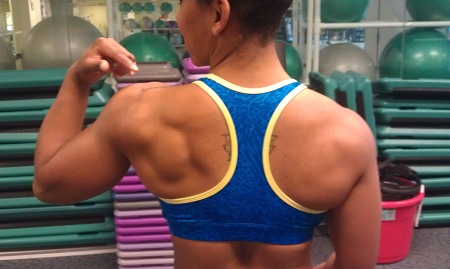 I'm excited because it's my next show and my body isn't too far off from where I'm suppose to be.
NOW the biggest challenge is tackling my diet because I LOVE FOOD!!! I love food so much that dieting is the hard part but I've learned to have more discipline. My discipline has to remain strong because I can't have Jamba Juice (one of my favorite places), no fruit, carrots or corn. Right now I'm on: 200g of Protein, 175g of Carbs, and 50g of Fat (and that means drinking 1tbsp of EVOO before and after I workout).
But here is the big catch: I GET TO EAT SUGAR FREE JELLO AND COOL WHIP!!!! Boy oh Boy!! I'm about to go nuts!!! I can't have my cupcakes, pizza, and ice cream, but I get to fulfill that craving with cool whip and jello!!
I have 12 weeks to go and I can't wait to show you progress pictures next month!