Denver's Own Rae Marie Makes Her First Appearance at Mercedes-Benz Fashion Week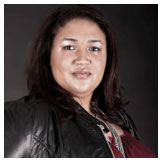 Denver fashion designer Rachel Marie Hurst, known as Rae Marie, was given a dream opportunity. Diet Pepsi chose her as one of the four regional designers to create three looks for their Style Studio Fashion Show presented by Simon Doonan.
Mercedes-Benz Fashion Week in NYC is a dream come true for any designer, especially one from a town as overlooked as Denver. Fashion House of Rae Marie epitomizes Denver style with Rae Marie's fashion mantra: "sexy, edgy, chic." She likes to mix hard with soft to create unique looks that can be mixed, matched, and layered. The girl who exemplifies Rae Marie's fashions is one that takes risks, is the life of the party, and she "doesn't take herself too seriously, but knows how to."
Fashion House by Rae Marie is going on to do great things, if her looks for Diet Pepsi's Style Studio are any consolation. Each designer was given the same inspiration for their three looks: fierce safari, avant garde workwear and silver fox—inspired by the new Diet Pepsi can. Rae Marie's looks were well put together and fit for any fashionista. Special guests included Blake Lively, Mary Kate Olsen and Debra Messing!
Rae Marie's fashion tips for fall 2012? Sheers and white. In our interview on day 2 of her arrival she said, "fashion is becoming fun again," and what we've seen from the shows already I can see what she means. Can't wait to rock the new looks!
Check out Fashion House by Rae Marie at local Denver boutiques and on her website at www.fashionsbyraemarie.com
.