Creative director for Kate Spade New York, Deborah Lloyd, has gone Parisian for Fall 2012.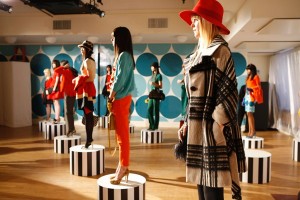 She said, "I was inspired by one of my favorite spots in Paris, the Cour D'Honneur at the Palais Royal. Fall is a play on prints, mixing abstract patterns with dreamy watercolors and polka dots of every proportion," and these looks are anything but boring. Bright and flirty, these looks are feminine and attention grabbing. For the New York Fashion week presentation, the models even stood on striped cylindrical platforms just like those outside the palace.
The main colors are red and black, but it looks as though every vibrant color made it into the collection. Styled by Brad Goreski, this Kate Spade collection tells us to mix and match bright colors to make a statement. "Think Paris, think cocktail party, think fun and flirty," he said. Even down to the cosmetic element, this collection screams "je ne regrette rien" and a  "je ne sais quoi" attitude. With thick straight bangs, polka dot finger nails and make up au naturel, Kate Spade hit a high note.
Parisians, in my opinion, are the most fashionable women in the world. They are crisp, flawless and make no apologies for the choices they make; I think that is an excellent outlook on style. This collection is full of statement pieces, but that doesn't mean it's impossible to emulate. Full a-line skirts with t-shirts, colored ankle pants with contrasting shoes and black and white patterns with electric colored gloves and shoes make fall 2012 a fun time to be a fashionita.