The New York Fashion Week presentation of J.Crew's Fall 2012 line hit the mark! Fresh faced models donned sharp cat-eyed sunglasses and orange hued lips. Classic cable knits were styled with a twist and worn alone and over graphic button ups. Sequins covered the surface of striped and zigzagged blouses and skirts.
J. Crew continued their noted color story and featured pink and burgundy counter parts in the form of full bodied skirts and chunky knits. Models carried shearling covered envelope clutches which added a rustic touch to the otherwise lady-like collection.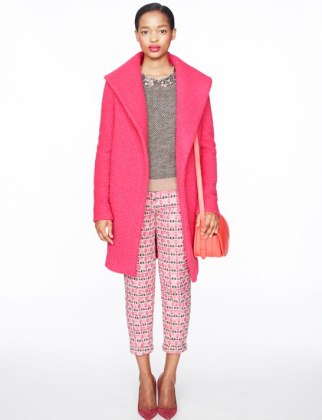 Pops of color came through in cozy double button pea coats and a variety of graphic prints.
If the NYFW presentation wasn't enough to fill your fall wish list; the Manolo Blahnik for J.crew line certainly will. In colors and patterns exclusive to J.Crew, smartly designed stilettos took the line to all new heights.