Denver Fashion Weekend Spring / Summer 2012 Presentation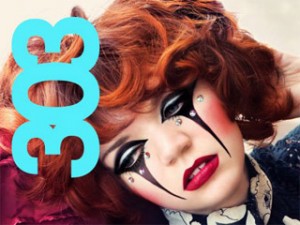 Lights, camera, action! It's time to put the spotlight on style. The three day runway celebration of style with 303 Magazine commences tonight. The mag's Denver Fashion Weekend Spring/Summer 2012 presentation will be hosted by Channel 2 and Fox 31's very funny and oh-so stylish Chris Parente at the Exdo Event Center in Denver, happening from March 1-3rd. It's a must-attend event for fashion lovers—-A three day extravaganza ending with a circus themed show produced by Autumn Binion that will rival the catwalks of international fashion with confetti cannons, ariel dancers and fire breathers.
Showcasing the vision and the work of some of Denver's most talented producers, directors, designers, hairstylists, makeup artists, models and so many more, Denver Fashion Weekend is the absolute hottest event to hit the local fashion scene. It's where the Fashionista goes to be seen and gets seen! Hope to see you there! I've included the complete schedule below.
Check out First Class Fashionista's interview with 303 Magazine's Owner and Publisher, Abraham Aharonian, on the night of the very first DFW.
DENVER FASHION WEEKEND SCHEDULE
Thursday, March 1, 7:30 pm – 11 pm
The HAIR SHOW by Charlie Price
Part 1:
Celebrity hairstylist Charlie Price will deliver an all-male hair review paired with white-hot vintage fashions in his return to DFW.
Part 2:
Visual champagne showers will sprinkle the crowd in a hair show full of lady locks and fashions by Soignee and Marie-Margot Bridal Couture.
Styling support by ADC Artistic Team and Scruples Hair Care Products
Friday, March 2, 7:30 pm – 11 pm
LOCAL BOUTIQUES & BEAUTY SHOW by Katelyn Simkins
Part 1:
Award-winning makeup artist Katelyn Simkins will present a wonderland of avant-garde brushstrokes in a never-before-seen show bringing makeup to center stage.
Part 2:
Fresh from market and in front of DFW attendees – local boutiques will summon the power of pastels in a segment that will have guests fashion hunting for spring.
Featuring Spring / Summer Collection from:
Handbags.com, shopgoldyn.com & Sous Le Lit
Artistry support by Michael Moore, The Makeup Store, Ron Lopez and Colorado Skin Works. Styling support by El Salon
Saturday, March 3, 7:30 pm – 11 pm
1920's TRAVELING CIRCUS THEME by Autumn Binion
With Autumn Binion's infamous and dramatic runway production behind them, local designers will showcase their latest collections with a late 1920's traveling circus theme.
PART 1:
Local designer Jose Duran
Styling support by Steve Trujillo from El Salon
Part 2:
Local designer House of Arden
Styling support by Juno Salon
Sunday, March 4, 11 am – 2 pm
Mingle with DFW producers, models, salons, stylists, boutiques, designers and the 303 Magazine family over a special brunch menu with drink specials.
The Rio Grande (1525 Blake Street, Denver, CO 80202)
For tickets, visit and search "Denver Fashion Weekend" at http://fla.vor.us and RSVP for the DFW Brunch at:
https://docs.google.com/a/303magazine.com/spreadsheet/viewform?formkey=dGJwZkRkMUdrWEllcjBpLVZmcktYcXc6MQ