Just a few weeks ago, Nick Cannon was hospitalized with severe health problems. Reportedly, the 31-year-old had endured several conditions including kidney failure and blood clots found in his lungs. It was just recently that Cannon's doctors have diagnosed him with autoimmune disease.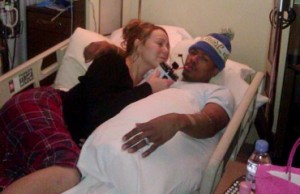 The "America's Got Talent" host told People, "They kind of say [my] autoimmune [disease] is – like a lupus type of thing, but no one else in my family has it."
Nick and his family are not taking his condition lightly and are sticking close to doctors orders. After his second hospitalization, Nick Cannon promptly resigned from his CBS Radio Show 92.3 NOW.
"The blood clot thing was probably the scariest because…I've known people who have passed away from that. I thought I was getting better and then that happened, so that kind of came out of nowhere."
We wish Nick Cannon a speedy recovery to health!