It looks like this Kardashian sister has opted to take the high road!
During a recent interview with Elle UK, Mad Men Star Jon Hamm referred to Kim as being a "F–king idot". Jon was responding to what he thought of the dumbing down of celebrity culture.
"Whether it's Paris Hilton or Kim Kardashian or whoever, stupidity is certainly celebrated. Being a f–king idiot is a valuable commodity in this culture because you're rewarded significantly."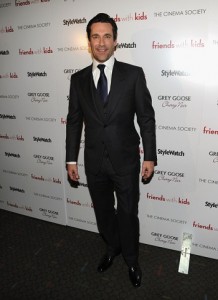 The insensitive comment has been a hot topic, and has yet to receive a response from Kim, until now. However Kim has acted surprisingly relaxed and unscathed. On Monday, Kim Kardashian took to Twitter to "settle the score" and share her feelings on the matter.
"I respect Jon and I am a firm believer that everyone is entitled to their own opinion and that not everyone takes the same path in life. We're all working hard and we all have to respect one another. Calling someone who runs their own businesses, is a part of a successful TV show, produces, writes, designs, and creates 'stupid' is in my opinion careless."
With an astonishing 14 million followers on the social network, Kim seems to have a strong backing fan base.
We think Kim Kardashian handled the situation in a profession manner, what are your thoughts about Jon's comment and Kim's response?