The world premiere of the highly anticipated "The Hunger Games" debuted in Los Angeles Monday evening. More than 400 fans camped out over night in order to greet the young cast. The movie which chronicles the book series by Susanne Collins has been regarded as one of the biggest series since the Twilight franchise.
The cast is comprised of relatively new actors, with the exception to a few familiar faces. The most hyped about of the bunch is new-comer Jennifer Lawrence who plays the tenacious Katniss Everdeen. The 21-year-old was glowing (literally) in a gold Prabal Gurung gown, which featured cut-outs at the waist.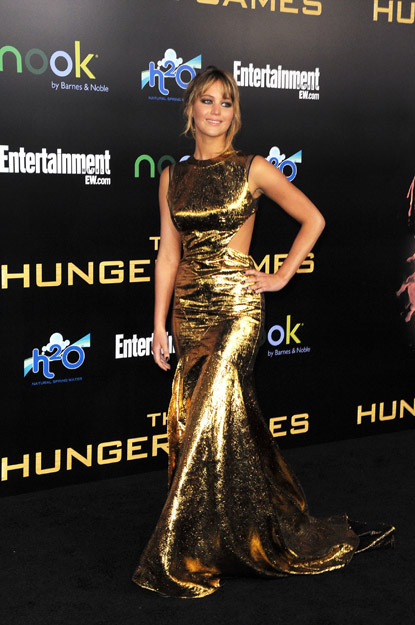 Alongside Lawrence stars Josh Hutcherson who plays Peeta and Liam Hemsworth as Gale. Each has recently played box office hits such The Last Song, and Journey to the Center of the Earth. Elizabeth Banks who plays Effie Trinket told the AP, "The passion of these fans is unlike anything I have ever been involved with."
If the movie has as much suspense as the book, I'm sure it will be a great film!
The Hunger Games will be in theaters everywhere March 23rd.