Humanitarian with Seeking Common Ground, wife, mother and Oscar attendee Erin Breeze, a Denver local, leads a busy and fulfilling life. This year, husband Daniel Junge received his second nomination and his first award from the Academy with Co-director Sharmeen Obaid-Chinoy for their documentary "Saving Face". Saving Face exposes the horrifying acid attacks happening in Pakistan, mostly against women at the hands of their own husbands. The cameras follow victims Zakia and Rukhsana, a plastic surgeon who has returned home to help, and the fight against the injustice.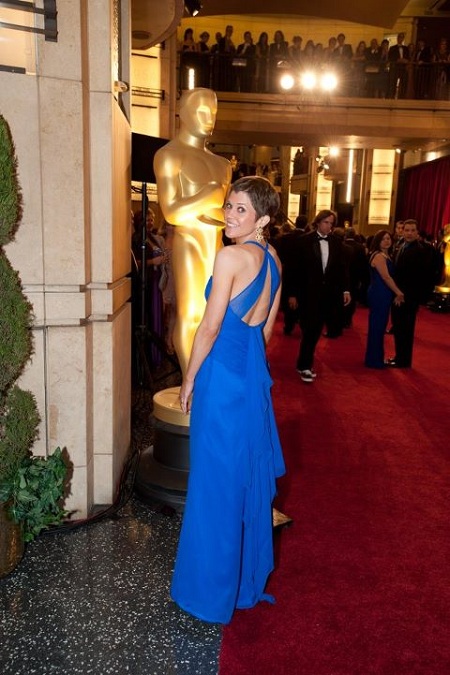 With a frame and essence similar to Audrey Hepburn, for her second red carpet appearance at the Oscars, Erin went for a look that was elegant, eye-catching and unique. After her first trip down the red carpet in a Maggie Burns of Marie-Margot Bridal Couture gown two years ago, she knew she had a better idea of what she wanted to wear for her 2012 experience.
"Straps are a must. The process of getting into the theater is quite a long ordeal and it's best to be comfortable; the dress must also be flattering and stand out amongst the crowd," Erin explains.
Erin chose to go with another Marie-Margot custom design. She said she loved Designer Maggie Burns' enthusiasm and energy. "The collaboration was a wonderful working experience, and the outcome was a beautiful formal gown fit for one of the most prestigious red carpet events in the world."
Together they selected a bright cobalt fabric (blue being the color of Erin's husband and her daughter's eyes) to construct the beautiful floor length dress with an open back crisscross detail. Erin Breeze accessorized her look with Kate Spade jewelry.
Congrats to Daniel Junge and Erin Breeze!