Best Macarons in Paris, France!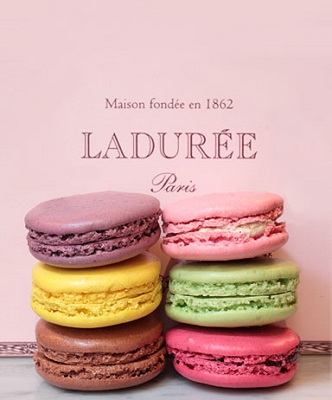 On my trip to Paris, France macarons were on the top of my list to bring home (just after a new Longchamp "Pliage" bag) because of their absence in American bakeries. Ladurée, the Parisian patisserie most famous for their macarons has many locations in France and around the world. The one on the Champs-Élysées is a whimsical oasis in the center of chaos and tourism.
Founded in 1862, Ladurée was a place where women could go to get tea and desserts when women were not allowed in cafes. Now, the name and emblem of Ladurée is synonymous with class. Macarons are my favorite desert. They are delicate, flavorful, and best of all, gluten-free! Made with egg-whites, sugar and almond-flour, they are the best way to avoid the gluten filled croissants and baguettes for which the French are famous.
Although there are plenty of other places to buy macarons in Paris and more cost effective, Ladurée is simply the best. Now, if only there was a closer location than New York City…