When we think about the maxi skirt trend, we often think of the '70s flower-power look; which may leave many of us second guessing and wondering if this re-occurring trend is "for me" or not. But fashionista to fashionista, I urge you to give it a try! Lately, we've even seen starlets like Emmy Rossum, Blake Lively, Kate Bosworth, and Gwen Stefani rocking the maxi skirt around town. As the weather gets warmer, the maxi skirt will be perfect for the office, school days or while you're out running errands.
Most maxi skirts are made with very breathable, light-weight fabric that moves well and won't weigh you down. Maxi skirts come in all different lengths that will work for different heights, body shapes and types. For those of you that are on the petite side, try a skirt that is mid-calf length to give the illusion of a longer leg line. If you have curves, try a skirt that goes all the way to the floor. This length of skirt will work with your curves to give a dramatic and goddess-like silhouette. For those of you who are long and lengthy, try a skirt that hits the ankle so you can still show off those long legs in a cute pair of sandals.
In the April issue of Glamour Magazine, editors put together "A Month in Outfits". The editors picked five basic pieces of clothing, then mixed and matched the pieces in creative ways to make thirty unique outfits. In the spread editors chose a periwinkle maxi dress and metallic maxi skirt as two of the five pieces, and both the dress and the skirt were paired with leather jackets, soft sweaters, and bold t-shirts to show the versatility of each piece.
Also on the maxi-skirt bandwagon is designer Jason Wu. In a recent issue of Marie Claire Magazine, Wu talks about his inspirations for both his Target collection and Spring 2012 runway line. In a picture illustration featuring ball gowns popular in the 1950's and his very own maxi dress design, Jason explains that his gowns could weigh three times as much. "I used [this] method of constructing big garments with as little fabric as possible, so they're very light," says Wu.
We think Jason Wu has got the right idea for women on the move!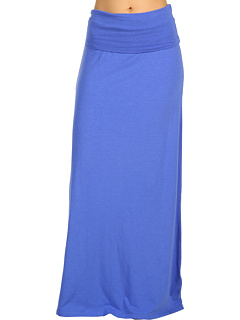 This is a Maxi Skirt found on Zappos.com
Tip 1: Check out zappos.com or target.com for great selections of maxi-skirts and dresses. Most are relatively inexpensive and lots come in cool, spring-time prints.
Tip 2: For an at-home project, dig one of those old prom dresses out with a long, slender silhouette. If there's not too much sentimental value between you and the dress, cut the top off from the waist up. Fold over the loose hem and stitch it over for your own, original maxi-skirt!