Let's just say Kim Kardashian didn't show up covered in flour to her new perfume debut.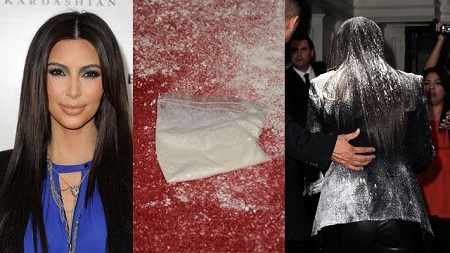 The reality star was doing a press at the London Hotel in Hollywood when she became the target of a flour bomb attack. The entire event went down on camera too, catching a bewildered look from Kim K.
So with all the current jabs (see Kim Kardashian Responds to Jon Hamm) at her status as a celebrity, you'd expect Kim Kardashian to lose her cool, right?
Not even close, it  actually turned out to be just the opposite!
"That probably is the craziest, unexpected, weird thing that's happened to me," Kim told E! News. "Like I said to my makeup artist, I wanted more powder and that's a whole lot of translucent powder right there," she joked.
Armed with her glam team on hand, Kim K. was quickly "dusted off", and appeared back on the carpet within 10 minutes.
Talk about being calm under fire. Meanwhile, the flour bomb assailant was caught trying to flee the scene and was booked at the L.A. County Sheriff's Office. Although no names or charges have been filed, new information has been released that is said to align the attacker with the animal rights group, PETA.
Disclaimer: This is all according to the entertainment news buzz…