Hapa Sushi Cherry Creek North Review
"Hapa has a high-tech feel… with its big windows, black accents, wood floors, and great lighting," said one enthused guest on urbanspoon.com.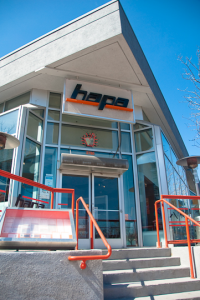 That is exactly what I thought when I walked into the place for the first time last week (and I've been back twice!) With sushi rolls on the menu such as the 'Multiple Orgasm' and the 'Booty Call', I instantly liked how Hapa Sushi Grill and Sake Bar felt—sexy.
A friend and I were looking for somewhere to grab drinks after work one night and we decided to check Hapa out. Hapa was described to me as a Hawaiian word meaning the "harmonious" combination of  traditional Japanese style cooking mixed with other influences from all over the world. The jazzed up names on the menu really added a fun, flirty and stylish twist to our evening at Hapa.
We arrived just in time for late night Happy Hour (8:30 to 11:00 pm on Sunday nights) at the location in Cherry Creek- just across the street from the Cherry Creek Mall.  Other locations include Boulder on the Hill, Boulder on Pearl Street, and there is one in Greenwood Village. The Happy Hour Menu included the hottest items Hapa had to offer: Large flasks of hot flavored Sake, the Rock'n'Roll sushi roll, and drinks like the 'Threesome' and the 'G-Spot'.
The flirtatious and inviting atmosphere at Hapa Sushi Grill and Sake Bar helped my friend and I relax and unwind without breaking the bank. The wallet friendly original cocktails and sushi rolls will keep us coming back for more.
To get more information on the menu and locations, visit hapasushi.com or you can even make a reservation at opentable.com.