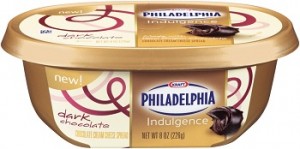 While traveling on business, I like to feel as relaxed as possible. I usually unwind by stopping by the store and picking up some comfort foods for my room during my extended hotel stay. In the evenings, I indulge in cookies, crackers, fruits and cereal. However, as a Glam Correspondent, I was presented with the opportunity to try something new and exciting! Courtesy of Kraft, I was able to sample the new PHILADELPHIA INDULGENCE.
I wanted to try the dark chocolate. While shopping, I thought about what would go good with it. I decided to get some graham crackers and marshmallows to make smores.
Once I got back to my room, I unpacked my stash of goodies and took a graham cracker and scooped the unbelievably rich and creamy chocolate spread from the tub and took a bite. Delicious! My very first thought after delicious was, "Who knew cream cheese could taste like this?" Later, I even had the bright idea to take a banana, dip it directly into my tub of Kraft PHILADELPHIA INDULGENCE, then coat it with crushed graham crackers. This combination was amazing!
Eventually I did make the smores, and took them to my business meeting the next morning. It took an extra 10 minutes to start the meeting because my colleagues were trying to figure out my "secret" to making these new kind of smores and why they tasted so good. Eventually, I finally let on that I used Kraft PHILADELPHIA INDULGENCE, Real Chocolate blended with rich creamy, PHILADELPHIA Cream Cheese Spread!
"Disclosure: Compensation was provided by Kraft via Glam Media. The opinions expressed herein are those of the author and are not indicative of the opinions or positions of Kraft"