From celebrities like Beyonce and Rhianna to Heidi Klum and Minka Kelly, the patterned pants trend has taken America by storm this season! With spring in full bloom and summer just around the corner, think outside the box and try bold markings on your bottom half. This trend is easy to pull off and makes mixing and matching colors and prints fun. Try a tribal print with bright, geometric colors and pair it with a sleek, sophisticated blazer on top for a night out on the town.
Or you can grab a pair of floral patterned leggings and a boho tank top or t-shirt for a more casual daytime look, like Heidi did here.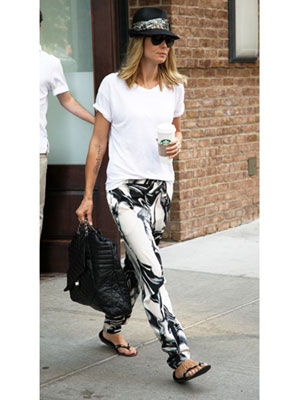 Try to stick with a solid color on top when wearing a stand-out print on the bottom.
While browsing my favorite online stores, I noticed some awesome capris and shorts in unique, head-turning patterns on 7forallmankind.com and a lot of styles were 30% off! JoesJeans.com also had a great selection of patterned pants and they offer free shipping. Happy patterned pants shopping!