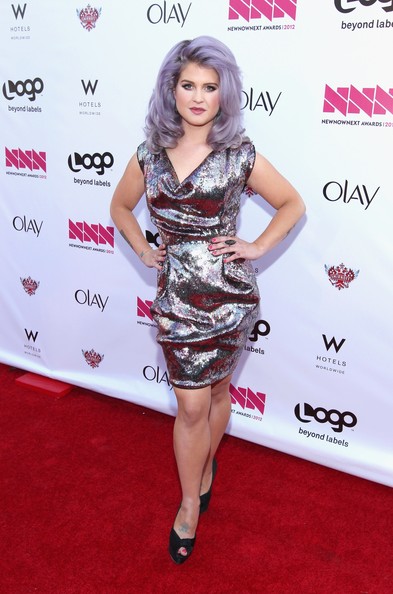 Last night at the Avalon in Hollywood, TV personality Kelly Osbourne hosted LoGo's fifth annual "NewNowNext" Awards. Osbourne was also up for an award herself at the show, which she received titled the "Beyond Style Award". The award show aims to honor today's hottest celebrities while celebrating the hard work of tomorrows brightest stars. Also honored at the show, winning the "Next Major Star" Award, was Josh Hutcherson from "The Hunger Games" and taking home the "Cause You're Hot" Award was Glee's Naya Rivera.
Reports say Kelly changed outfits a total of five times and looked spot-on every time! Memorable outfits of the evening worn by Miss Kelly O were the adorable and playful Dorthy number, complete with ruby-red slippers and her black be-jeweled evening gown. Osbourne was perhaps the most memorable of all last night, with the Dorthy number, purple hair and her stunning figure!  
Gracing the cover of next month's Cosmopolitan Magazine, Kelly goes in depth, talking about everything from her battle with drug addictions, to how she's been improving her health, mentally and physically. In the mag, Osbourne talks about the importance of eating healthy and exercising, and how she stays mentally healthy. She explains that she stays in close contact with her family and tries to surround herself with good people.
Kelly Osbourne has shattered skeptic Hollywood beliefs and has risen above the judgement to reveal a unique, confident fashionista who we can't get enough of!  To get more Kelly O, follow her on Titter @MissKellyO or check out E!'s Fashion Police every Friday night!