Is The Hunger Games Movie True to the Book?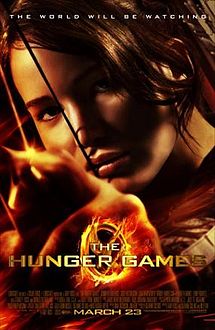 To avoid the masses of fans flocking to the opening weekend of the Hunger Games, I choose to wait until the hype had died down. To my surprise an almost entirely full theater still awaited me. I quickly took my seat among one of the deserted back rows to avoid one of the middle seats being taken from me. I couldn't help but over hearing a throng of girls talking to one another. A few of them in particular exchanged comments about how many times they had seen the flick since it premiered…1, 2 and 3 times! Soon after the lights were dimmed and we were invited into the mindset of the Hunger Games.
The Review:
I have to admit that I myself just recently hopped on the Hunger Games bandwagon. After several friends convinced me that I would, "Loove" the book, I reluctantly gave in. Two days later, I was finished and on Amazon ordering the next two books in the series. I highly recommend reading the book before watching the film. The obvious detail of literature is hard to fit into a two hour movie.
However, I thought the translation from novel to big screen was great! The movie synopsis surrounds a futuristic country of Panem, a set of 12 districts whom is centrally controlled by a "big brother-esque" Capitol. The movie follows young Katniss Everdeen of district 12, who volunteers for the Hunger Games in order to save her sister Prim.
Once inside the Capitol, Katniss alongside local baker and love interest Peeta, must fight 22 other contestants from various districts. Within the undisclosed arena the players must fight to the death, until only one is left to be crowned victor. The movie is no shortage of the high action drama that is present within the book.
The most essential scenes managed to fit their way into the allotted time frame, with a few exceptions. Maybe it was due to the rating, but I thought some of the pivotal action scenes where the players were wounded were less dramatized. In the book a near death Katniss is hardly hurt in the film. Same with Peeta, whom in the book ends up loosing his leg after the games have ended.
In the movie Peeta leaves the arena unscathed with only a broken heart. Some parts of the film felt a little rushed and they never focused on any particular scene for too long. One thing I thought was completely on point was the character casting. The film staff did an incredible job recreating the individuals from the book to look realistic and believable.
Overall I enjoyed the film for a book to movie franchise! I just think the PG-13 rating withheld a majority of the violence, while the time constraint only allotted the necessary scenes.
What were your thoughts on the Hunger Games movie?