After being picked up by Facebook for a whopping $1 billion dollars, it seems the photo-sharing app has hit the big times. Instagram, with a small company base of only 13 employees, is arguably one of the most successful apps available.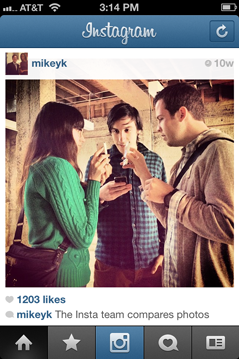 So why choose Instagram over other camera editing applications?
From first hand experience I can tell you it's all about the ease of the program, with other photo-sharing apps I've tried in the past the reaction and editing time was a real issue. Instagram is a breeze in comparison, and with 30 million users they seem to be doing something right.
So besides your friends and family who should you follow? We've comprised a list of the most FCF approved celebrities and fashionistas.
Lauren Conrad: @Laurenconrad
The one time resident of The Hills, is now steadily working on her multiple fashion lines.Follow along for pics of sweet treats and fun vacations.
Kardashian Sisters: @Kimkardashian @Kyliejenner @kendallnjenner
The Kardashian family have all been top Instagram users for their crazy family antics and glamorous fashion sense.
Lucy Hale: @Lucyhale89
Any Pretty Little Liars fan will love the behind the scenes snaps of Rosewoods most wanted group of friends.
Dannijo: @Dannijo
Fan favorite for her fabulous and eccentric jewelry designs, Designer Danni and Jo Synder take you through they're fashionable life and, outings with stylish friends.
Eva Chen: @Evachen2012
Teen Vogues resident beauty director will give you a sneak peek of awesome new products and her equally as fabulous style.
Free People: @Freepeople
Behind the scenes of the way cool Free People offices. Daily shots of the design staff and sales team across the country.
Don't forget you can follow First Class Fashionista and its staff on Instagram too! It's free and available for both the Apple and Android Market.
@firstclassfashionista
@birdieshoots