Sometimes you just need a little lippy to liven up your look. The cosmetic trend for this spring is orange lipstick!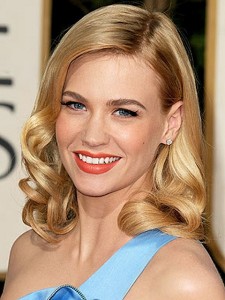 January Jones, Mad Men Actress
The key to wearing orange is finding the right shade for your skin tone. For a darker complexion, blue undertones and a lighter hue can really pop against the skin. Those with light skin and hair are more often better suited for peachy tones and coral. The best orange for brunettes is a yellowish or red tone to brighten up the face.
A general rule to keep in mind is that the lighter your skin tone, the more overwhelming the color can seem; try easing your way into it with a light texture or gloss. As with all bright colors, remember to keep other face make up neutral and clean with only some light peachy blush to match.
As for pairing it with a fashionable outfit, it's best not to overdo it. Wearing orange lipstick with a neutral is safe, but you can also pair it with a color column look. Whatever you wear it with, it must be worn with confidence! Without that a bold lip will go flat.