Since moving to Denver five years ago, I've really taken notice to the hip hop scene in the Mile High City. Last Friday, I took part in this creative, unique, high-energy community that came together to welcome hip hop star Talib Kweli as he spoke from his Sankofa Lecture Series on the Auraria Campus downtown. Born Talib Kweli Greene in Brooklyn, New York, he went on to graduate from NYU. Most notably were his collaborations with Kanye West, Mos Def and producer Madlib.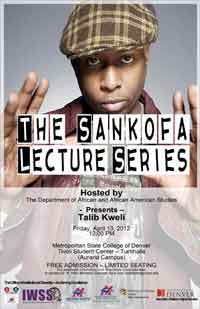 The Sankofa Lecture Series stresses the importance of the influence of hip hop music on the American culture and is used as a medium to recognize and analyze social inequities in our communities around the country and around the world. Kweli stressed the fact that this was not so much a lecture but a free flowing conversation, as he stood on stage in his purple cashmire sweater and backwards cabby hat. Talib Kweli spoke on experiences in his personal life as well as his life as a hip hop figure. He stressed the importance of involvement of people in the hip hop culture, as well as the culture of our communities as a whole. Kweli discussed how artists, of all kinds, from painters to MCs to fashion designers, will follow the community and the influence of the people. He went on to urge us as students and as members of the community to voice our opinions and recognize talent we admire. Kweli also brought up a very valid point; that artists need to have a certain realism or believable quality to their work so that the audience or customer can relate. If the audience can relate to the artist's work, then the influence and appreciation for the artist will grow and become more respected.
A special thanks goes out to all who participated and preformed to help make this event a success, including the Department of African American Studies of Metropolitan State College of Denver, DJ DealzMakesBeats and Daikool who opened the show, and all the others who showcased their talent.
For more information on upcoming events and shows featuring Talib Kweli and other hip hop artists, visit http://www.songkick.com/artists/362686-talib-kweli.