Prince William and Kate Middleton One Year Strong!
Can you believe the lavish, royal wedding of Prince William and Kate Middleton a year ago? Drawing in over 3 billion viewers, this is an event us Fashionistas will never forget. Word around town says the couple could not be happier! With the actual anniversary not until the 29th of this month, rumors are surfacing about their plans to celebrate.
Sources say that Prince William will present his princess with precious jewels from his mother, the late Princess Diana's personal collection, likely at St James's Palace. If that isn't enough, CBS News reports that the couple has been waxed! Not in the "getting sleek" sense but actually waxed!  Madame Tussaud's Wax Museum (located in London, Amsterdam, and New York) unveiled wax replicas of the power couple last Wednesday, April 18th, in honor of their upcoming wedding anniversary.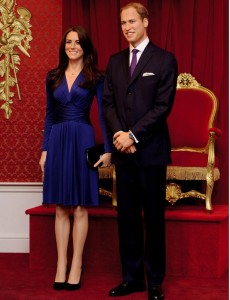 However, along with rumors of joyful plans, come hurtful words towards the couple's inability to produce an heir to the royal throne. We've seen the tabloids print an issue about once a month with titles reading "Is She Pregnant?", "Baby on the Way?" and "Are William and Kate expecting yet?" Many sources are bashing Kate for being too skinny and stirring up theories behind issues the couple may be having.
I'm sure Kate gets annoyed with the constant comparisons between Princess Diana and herself. Guess we'll just have to wait and see…
In the May issue of Glamour magazine, editors put together a photo spread titled "Happy Anniversary to the Ultimate Double Do", which featured snap shots of the couple dressed in some surprisingly similar outfits. The article went on to explain how after one year, the William and Kate appears to still be as close as peas in a pod.