After checking out of Utah's Cirque Lounge Rehabilitation Center nearly a month ago, Demi has reclaimed her red carpet composure. The 49-year-old actress looked healthy and was all smiles as she supported close friend Amanda De Cadenet.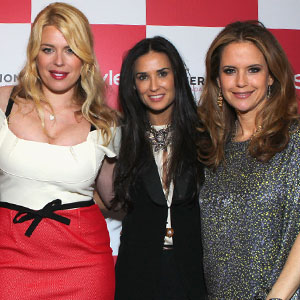 Tuesday evenings appearance was held at a private estate in Beverly Hills and was centered around Amanda's latest project. The Conversation, which counts Moore as executive producer follows Amanda as she interviews Hollywood's leading ladies.
Also in attendance for the evenings events were actress Kelly Preston, Joy Bryant, and stylist Rachel Zoe. Earlier this week Moore regained her Twitter account by saying, " Time for a change, twitter name change…any suggestions?" she asked followers.
We're glad to see Demi Back!